3 INTELLECTUAL OUTPUTS WILL BE DEVELOPED
---
OUTPUT 1 - THE HANDOBOOK
---
REALISATION OF A HANDBOOK ABOUT IMPLEMENTATION OF A NARRATIVE TEACHING APPROACH IN EARLY EDUCATION.
---
Main content will be on the methodological tool to organise the preschool learning setting and the related daily activities based on the narrative approach with the final objective to engage children and teachers in the development of a fruitful learning/teaching process and in a true dialogue.
OUTPUT 2 - EVALUATION TOOLBOX
---
CREATION OF AN EVALUATION TOOLBOX: SELF-ASSESSMENT, MONITORING, IMPACT ASSESSMENT (SAMIA).

---
Every change in the school setting needs a systematic checking-action about the introduction of a narrative approach. This process can be produced enhancing self-education process in the school staff and promoting a tested toolbox, called SAMIA, with instruments for the impact assessment.
OUTPUT 3 - ORIGINAL CHILDHOOD LITERATURE
---
REALIZATION OF ORIGINAL CHILDREN'S LITERATURE PRODUCTS STARTING FROM THEIR SELF PRODUCTION NARRATIVE AND STORY TELLING.

---
These products can be used by libraries and made available to their customers and can promote in preschools the practice of own production in the field of children's literature. On this point the collaboration with libraries is essential to promote children autonomous and original literature.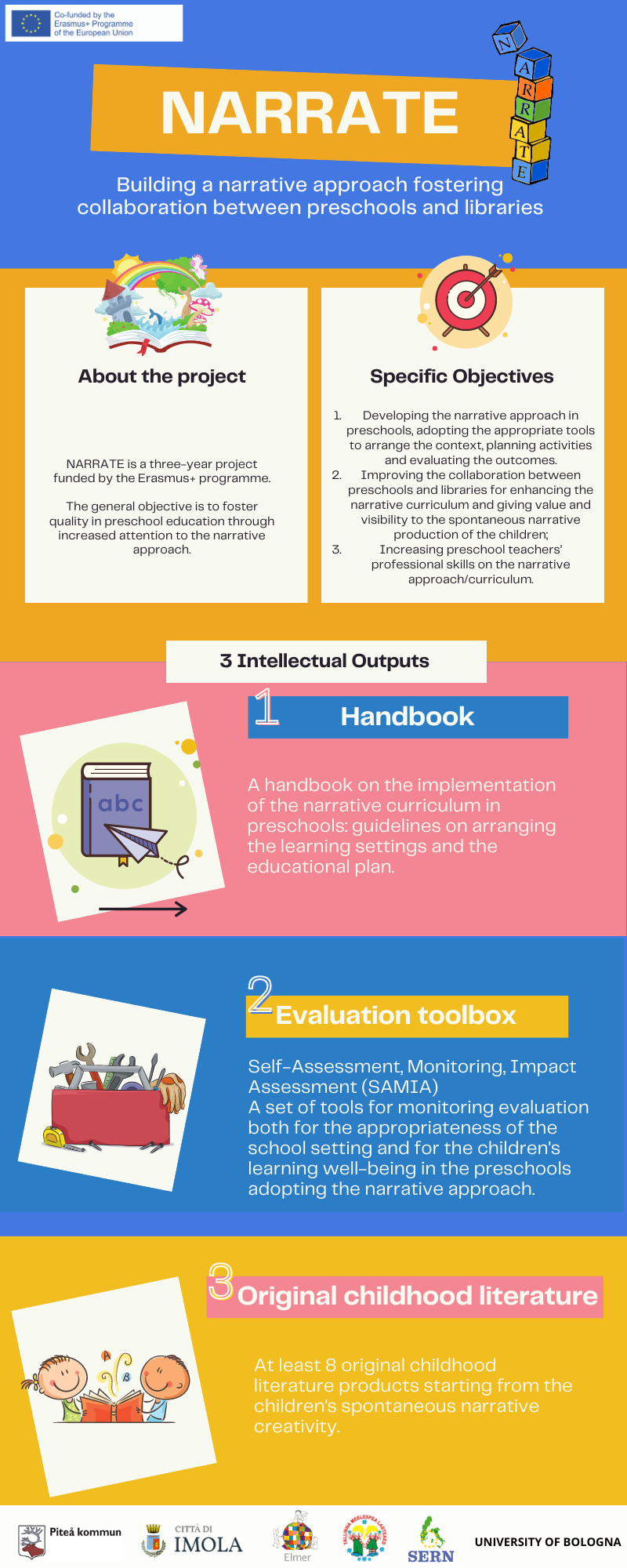 A narrative approach helps to get to know ourselves, each other and about the world, also to be able to communicate with each other. The narrative structure, helps to guide and organize our way of thinking. As part of sustainable learning, we have chosen to focus on a narrative approach in the coming years through this project. Narrative builds bridges and tears down barriers between different generations, cultures and languages, and creates a competence for lifelong learning to be able to function in different social contexts. A narrative approach is based on children's participation and influence, which also makes children co - creators in sustainable learning. We are building a learning practice based on the children. It feels meaningful, stimulating and fun for both children and teachers. In this project we can develop our skills further more.

The project allows us to get to know different cultures and various ways of understanding and applying educational practices, finding aspects that unite us and I think that this is really important in our job, that give us the privilege to support and accompany world's future citizen in their learning path. I think that is necessary that children can feel listen, understand and support in their ideas, to build strong relationships of trust that can make us able to help them to develop their thoughts and concepts. So this project can be a way to improve the quality of our work from many points of view.

This path is giving me new ears and eyes to better listen and look the little but big narrations that children do every single day. Keeping memory of their stories means keeping trace of them, of their experiences and thoughts; I hope to be able to get more listen skills so I can become a co-builder of many narration with children. (CATERINA)

The topic of the project is really important: lately I've been passionate towards the importance of listening children, by studying various documents and this project is an opportunity to deepen this aspect of the narrative approach. Moreover, to participate to activities with various and different country let us to better understand that exists aspects of education that are transversal to all and others that are determined by our own culture.

To be part of this partnership and to deal with together of this topic is really exciting for me. I'm sure that this project lets us establish a new deal in early education, more respectful of the children's rights and much more pleasant for the teachers. Eventually, this project can contribute to making early education, art, and social life even closer to each other, identifying preschools as a place where even the children can generate Culture (with a capital "C").

Being part of this project means being part of an International network that lead us to expand our mental boundaries and have a look on the world or, at least, on a part of it. Choose to adopt the narrative approach allows to create a context that let children to be builders of their life and learning path, without having to follow a path traced by other people. As teachers this approach give us the ability to lower the performance anxiety and help to have a more authentic way to live the relationship with children and not less important to have more fun. Because we mustn't forget the beautiful part of our job: children that smile and make us smile!

Nullam sagittis tincidunt pharetra. Nulla fermentum porttitor tortor, id dictum quam feugiat vel. Nulla quis fermentum diam, euismod semper tellus. Sed volutpat varius est. Maecenas tincidunt et lectus.

Exchange practices, methodologies, experiences, values is an efficient way to build an inclusive and connected Europe in a "bottom -up perspective" above all when talking about early child education.